Turnersville Office
Turnersville Criminal Defense Attorneys and Personal Injury Lawyers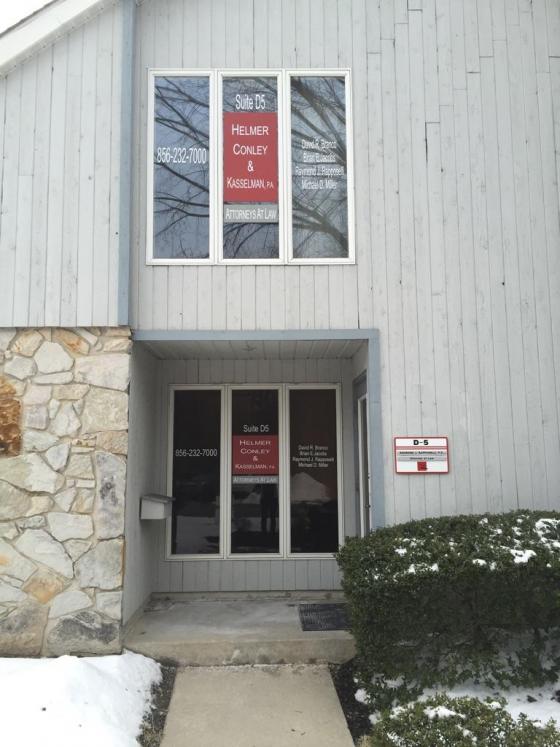 Helmer, Conley & Kassleman's busy Gloucester County office is located in Turnersville and was previously the office of Ray Rapposelli.  Ray joined the firm in 2012. Some of the firms NJ Criminal Defense attorneys and NJ Personal Injury attorneys visit with many of their clients on site there.  In addition, all of the firms attorneys are available to consult with Gloucester County clients through the firms teleconferencing capabilities. The firms interconnectedness means that, in addition to additional access to NJ Criminal Defense lawyers and NJ Personal Injury attorneys, clients in the Turnersville location can promptly and easily consult with the firms NJ Family attorneys, Immigration attorneys and DUI attorneys.  The firms 2013 addition of a Business Law and Litigation department provides additional resources to its clients across the state, including in Gloucester County.
Clients have choices when hiring attorneys.  Most of HCK's clients are referred by prior clients, a testimony to the high quality of HCK's legal representation and client service. Members of the firm are frequently recognized by many outside organizations, including Superlawyers, SJ Magazine, Best Lawyers, South Jersey magazine and others. The firm has several attorneys, almost 20%, certified by the Supreme Court of NJ as Criminal Trail attorneys.  This number is extraordinary since the NJ State average for this recognition is less than 2% of all attorneys and speaks to the firms commitment to ongoing education and excellence.
Clients need Turnersville criminal defense attorneys for all kinds of problems.  Concerns can range from minor misdemeanors in municipal court to 1st degree felonies in Superior Court.  Many issues can be resolved by negotiation and plea bargains by an experienced lawyer. To do this effectively requires an in depth knowledge of law and investigative process. HCK's attorneys are former assistant county prosecutors, including several first assistants in several counties, former deputy attorney generals or former US assistant attorneys as well as retired police officers.  They use their extensive understanding of both sides of the system effectively on their client's behalf. Sometimes there is no alternative to a trial.  In those situations, the attorneys at HCK are willing and able to mount the best possible defense. The litigators are supported by a strong team of researchers, investigators and paralegals.
Clients need the services of NJ Personal Injury lawyers when they suffer harm caused by someone else.  Some of these situations are unfortunately common and obvious, such as car accidents, dog bites and slip and fall injuries.  In these situations, attorneys work for client's to ensure that they receive appropriate compensation from those responsible for their injuries.  Experienced personal injury attorneys also work to ensure that clients have realistic expectations regarding their situation- clients who expect too much will be dissatisfied while clients who expect too little will not receive adequate compensation.  It is a fine line and an experienced Negligence attorney can help you walk it.
Turnersville and the surrounding areas in Gloucester County are largely populated by families. Families can often have needs for NJ Family law attorneys, NJ Immigration attorneys and NJ Business law and litigation attorneys.  If you have any of those needs, just Call Us.  We are here to help.
900 Route 168, Suite D-5 
Turnersville, NJ 08012
Phone: 856-232-7000