Clark Office
Clark Criminal Attorneys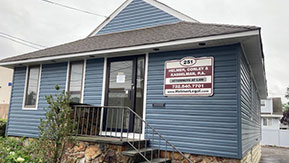 HCK opened its Clark office in March of 2016. Conveniently located in Union county, New Jersey, the Clark office will provide convenient access to HCK attorneys for clients in the Northern NJ and New York area. Anchored by attorney Scott Kraus, who recently retired from the Union County Prosecutor's office after 27+ years as an assistant prosecutor, the office provides a location for clients seeking the services of a NJ Criminal Defense Attorney, NJ Municipal Court lawyer, or an immigration attorney to get the help that they need.
HCK has offices throughout NJ and the firms video conferencing capability ensures that clients in any office can utilize the experience of all of the firms attorneys, regardless of where they are located. Clients who need a NJ Family Law attorney, A NJ accident lawyer, a NJ Business attorney, or a NJ wills and estates lawyer can conveniently find all of that legal assistance in our Clark office. Clients who need assistance in another language will find their needs competently handled by the firms many multilingual paralegals and attorneys, many of whom are competent in Spanish, Portuguese and Hebrew among other languages.
After visiting with an HCK attorney, clients may enjoy the history and sites of Clark and the surrounding area. Clark includes several historic sites including the 17th century Robinson Plantation house, the Squire Hartshorne House and The Homestead Farm at Oak Ridge. Clark was named for Abraham Clark, a New Jersey delegate to the Continental Congress and a signer of the Declaration of independence. Only .5 miles from the Garden State Parkway, beach access is easy for those who prefer that form of relaxation.