Clark Office
Clark Criminal Attorneys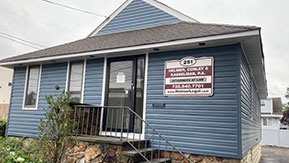 Helmer, Conley & Kasselman opened its Clark office in March of 2016. Conveniently located in Union County, NJ, the Clark office will provide convenient access to our attorneys for clients in the Northern New Jersey and New York area. Anchored by attorney Scott Kraus, who recently retired from the Union County Prosecutor's office after 27+ years as an assistant prosecutor, the office provides a location for clients seeking the services of a criminal defense attorney, municipal court lawyer, or an immigration attorney to get the help that they need.
Helmer, Conley & Kasselman has offices throughout New Jersey, and the firm's video conferencing capability ensures that clients in any office can utilize the experience of all of the firm's attorneys, regardless of where they are located. Clients who need a family law attorney, accident lawyer, business attorney, or wills and estates lawyer can conveniently find all of that legal assistance in our Clark office. Clients who need assistance in another language will find their needs competently handled by the firms many multilingual paralegals and attorneys, many of whom are competent in Spanish and other languages.
After visiting with a Helmer, Conley & Kasselman attorney, clients may enjoy the history and sites of Clark and the surrounding area. Clark includes several historic sites including the 17th century Robinson Plantation house, the Squire Hartshorne House and The Homestead Farm at Oak Ridge. Clark was named for Abraham Clark, a New Jersey delegate to the Continental Congress and a signer of the Declaration of independence. Only .5 miles from the Garden State Parkway, beach access is easy for those who prefer that form of relaxation.
Our Areas of Practice
Our attorneys represent individuals and businesses in civil, criminal and government matters. In Clark, we routinely assist clients who are facing:
Criminal Charges – We provide aggressive legal defense for state and federal criminal charges.
DUI/DWI Charges – We represent Clark residents and visitors who have been charged with drunk driving offenses (DUI/DWI) and breath test refusals.
Family-Related Legal Issues – We offer skilled and compassionate legal representation for divorces, preparation of prenuptial agreements, and child-related matters in Clark, NJ.
Personal Injury – We 

can assist you and your family in many areas of personal injury and negligence law, including auto accidents, slip and fall accidents, wrongful death, and more.

Probation Violations - even if you violated your parole, our attorneys will explain your actions and fight for a second chance
Regardless of your needs – and even if you are not sure whether you need an attorney – we encourage you to contact us for help. We are happy to help you understand your situation, and we will gladly arrange for you to meet with one of our attorneys.
Attorneys for Criminal and DUI/DWI in New Jersey
Our attorneys provide personalized legal representation for criminal, DUI/DWI and family law matters in Clark, NJ. Founded in 1992 and with a team of 40-plus attorneys, our firm offers centuries of legal experience, and many of our lawyers have been practicing law for more than 30 years. When you choose Helmer, Conley & Kasselman, P.A., you can expect:
Skilled representation from an attorney with specific experience in your area of need
Access to our legal professionals when you need it
24/7 call answering and multi-lingual staff
Personalized representation focused on the unique details of your situation
Unwavering commitment to securing a favorable resolution as efficiently as possible
Do You Need a Clark Criminal Attorney? 
Have you been charged with a crime? Have you been charged with DUI? Do you want to talk to a lawyer about having your record expunged? If so, we can help. Our Clark criminal attorneys are experienced in handling all types of cases, and we are passionate about protecting our clients through all means available.
Defense for Criminal Charges in Clark
If you are facing a criminal charge in Clark, you are facing jail (or prison) time, fines and other consequences. If convicted, your criminal charge could negatively impact your life for years to come. You need to take your case very seriously, which means you need serious legal representation.
Our attorneys represent individuals who are facing all types of criminal charges in Clark. This includes charges for:
Drug crimes (i.e., possession, cultivation, manufacturing and distribution)

Property crimes (i.e., arson, burglary, robbery and theft)

Violent crimes (i.e., assault, aggravated assault, domestic violence and homicide)

White collar crimes (i.e., identity theft, embezzlement and money laundering)
Defense for DUI Charges in Clark
Under New Jersey law, a DUI is classified as a traffic offense rather than a crime. However, drunk driving charges can still lead to jail time, substantial fines and other penalties. As a result, if you have been arrested for driving while impaired or blowing above the legal limit, it is important that you speak with a Clark DUI lawyer right away.
Even if you got caught driving after having too much to drink, you could still have several defenses available. Our lawyers will examine all possible grounds for disputing your DUI charge, and we will fight to get a favorable outcome regardless of the circumstances.
Probation, Expungement and Other Criminal Matters
Did you get arrested while you were on probation? Do you think you might finally be eligible for expungement? Do you need to seek post-conviction relief? Our lawyers can explain everything you need to know, and we can guide you through New Jersey's complex criminal justice system. To speak with a Clark probation lawyer, expungement lawyer or post-conviction lawyer in confidence, contact us for a confidential consultation today.
Office Directions
251 Westfield Avenue 
Clark, NJ 07066
Phone: 732-540-7701
To visit our offices in Clark, take Exit 135 off of the Garden State Parkway. Go south on Brant Avenue until you reach the intersection with Westfield Avenue (to reach Brant Avenue from the Garden State Parkway southbound, turn left onto Central Avenue and then right onto Brant Avenue). Turn right onto Westfield Avenue and our offices will immediately be on your left. Parking is available in the rear of the building.