Woodstown Office
Woodstown Real Estate Lawyers and New Jersey Wills Attorneys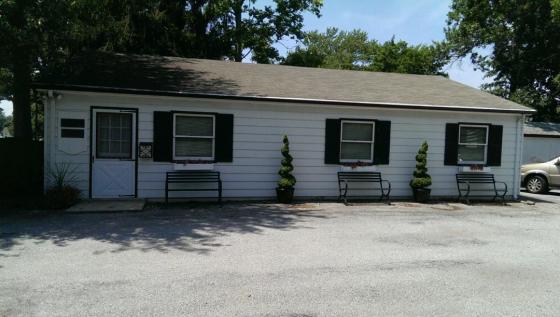 HCK's Woodstown real estate lawyers and New Jersey wills attorneys anchor the Woodstown office.  They are supported by frequent visits from the firms NJ Criminal defense attorneys, New Jersey family lawyers and NJ Personal Injury attorneys.  This law office has served the Woodstown community for many years. Built in 1971, the office was originally as the site of the Acton and Point law firm, founded in 1970. Now it serves as the Salem County home of the HCK firm, of which Mr. Point is a valued member.
The HCK firm is strongly committed to the Salem County area.  Several of the firm members have lived in the County for many years and, along with friends and colleagues, enjoy the rural atmosphere with the close proximity to big city attractions. Part of Woodstown's charm is its architecture.  To maintain the look of the town, ordinances restrict the size of signs for businesses.  Don't worry though- you'll be able to find the HCK office.  Just look for the big bear on the lawn- with a welcome sign! His name is Brandeis Bear and he is named for the Supreme Court justice appointed in 1916 by Woodrow Wilson- we like history here!
New Jersey Real Estate attorneys are busy in Woodstown.  Demand for real estate is high in Woodstown compared to other parts of the country.  Clearly HCK members are not the only ones who know how wonderful the Woodstown area is.
HCK's NJ Family Law attorneys provide many services to clients from Woodstown and surrounding towns in both Salem and Gloucester County.  In addition to concerns around divorce, alimony, child support and visitation, cases involving grandparents' rights are important to our entire client base.  Grandparent's rights cases are very important to our Woodstown clients as such a large proportion of retired people live in this area and have grandchildren.
New Jersey family attorneys work closely with NJ wills attorneys.  Whenever children are involved, the firms attorneys strongly recommend that parents complete documents to arrange for the children's future (in the event that something happens to interfere with the parents' ability to care for the child).  These issues are even more important in situation involving divorce or blended families the issues can be more complex during what is already a very difficult time.
The firms NJ Criminal defense attorneys, 4 of whom are or were certified by the Supreme Court on NJ as Criminal Trial attorneys, DUI attorneys and Personal Injury attorneys often practice out of the HCK Woodstown office. In addition, because the firms offices are all interconnected with video teleconferencing, clients in the Woodstown area can conveniently meet with any of the firms attorneys, wherever in the state they might be located.
A number of tourist attractions are available to visitors in the Woodstown areas.  Well worth a visit is Cow Town rodeo, the Cow Town flea market (every Tues and Sat all year with over 500 vendors) and the summer Salem County fair.
181 East Avenue 
Woodstown, NJ 08098
Phone: 856-769-0780