Egg Harbor City Office
Egg Harbor City Criminal Attorneys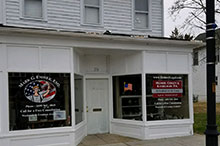 Our new location at 256 Philadelphia Avenue, Egg Harbor City offers our clients the opportunity to visit a part of the state that may be less familiar than some other areas.  Steeped in a long historical tradition, the history of Egg Harbor City is particularly apt at this moment in our country's history.  The people who founded Egg Harbor City in 1854 did so to provide a safe haven for immigrants, particularly of German descent, who were persecuted during earlier periods of anti immigrant violence.
Egg Harbor City, located in Atlantic   County, remains part of the NJ Pinelands National Reserve.  The Renault Winery, founded in 1864, is the oldest winery in NJ and is partially located in Egg Harbor city,
Egg Harbor City has had a small but stable population over the years.  The saying that quality is more important than quantity applies here with regard to people who have lived in or had a relationship with Egg Harbor City and had an impact on the larger community.  These include several political activists and war heroes from many years ago.  More recently, John D 'Agostino, a professional poker player and Lindsey Petrosh, Miss New Jersey 2012 have hailed from Egg Harbor City.
Egg  Harbor City has an active historical society that researches and collects artifacts and documents related to the city's history and associated German heritage.  More information is available on  their website
NJ  transit provides rail and bus service to Egg Harbor City.  The transit station is a way point for those traveling between Philadelphia and Atlantic City
256 Philadelphia Avenue 
Egg Harbor City, NJ 08215
Tel: 609-965-0045