Salem Office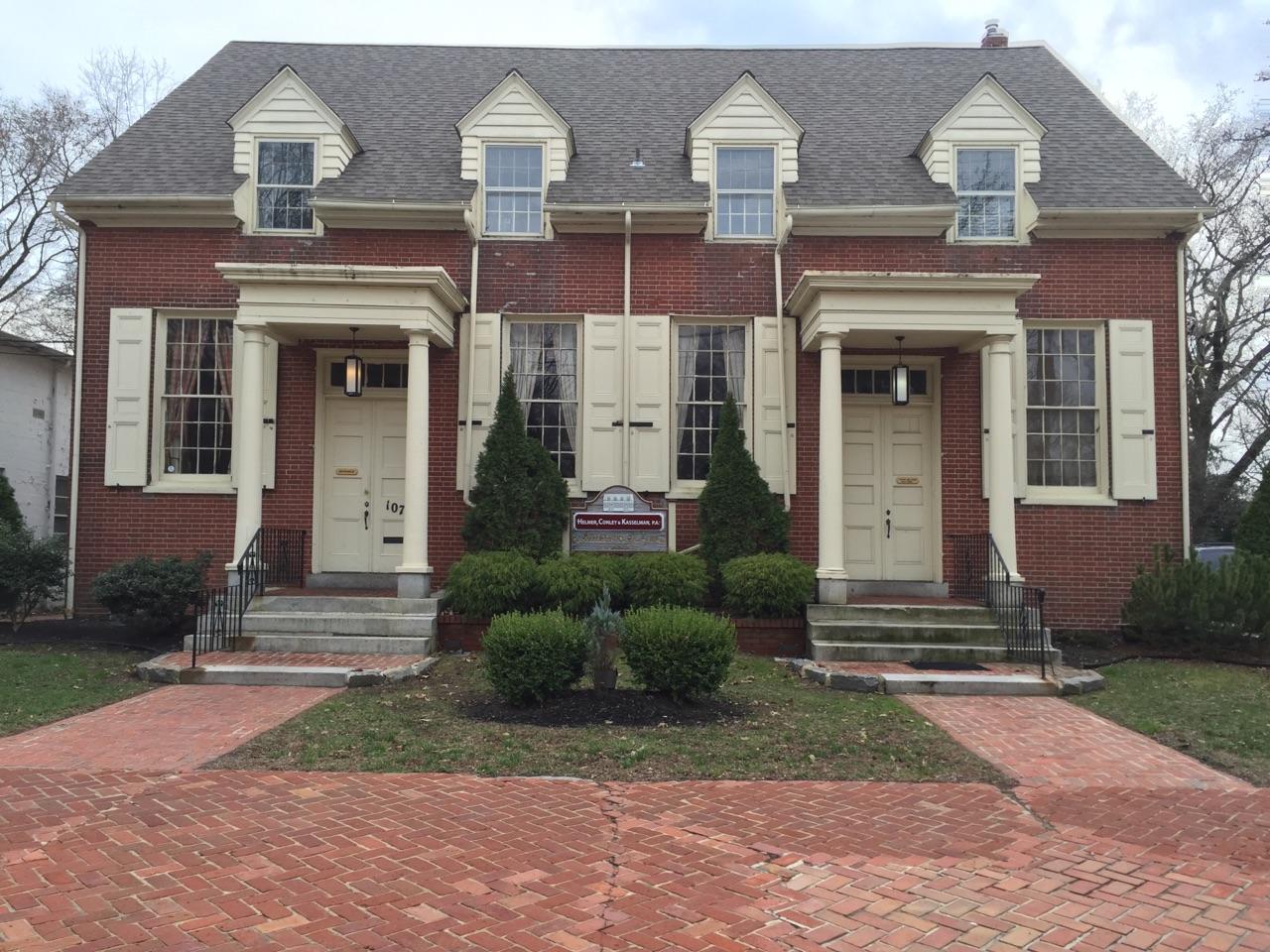 The winter of 2017 brought another historic building with a distinguished legal history into the HCK fold.  107 West Broadway, Salem, NJ, built in 1837 as a Quaker meeting house, was sold in 1941 to W. Orvyl Schalick, the first of several attorneys who used the location as a law office. After 25 years as an attorney, Mr. Schalick ascended to the bench, and Attorneys Sherman and Waters purchased the building.  The building changed hands again after Mr. Waters ascended to the bench. Attorney David Puma and others had their law practices there for many years.  In 2017, Mr. Puma was named to the workers' compensation bench, and the HCK law firm expanded its Salem County presence into the building. HCK is pleased to welcome the people of Salem County into its newest Salem office.
The City of Salem was founded in 1798. Its name derives from both the Hebrew (Shalom) and Aramaic)Salaam) words for peace. Many lovely historic buildings still exist in Salem today. The Salem Oak, which was just near the front of our building,  lived for approximately 500 years before finally falling in 2019. What a beautiful tree and sense of history.
Salem has been home to many distinguished individuals, including a Nobel prize-winning chemist, Charles Pederson and  a Hall of Fame baseball player, Goose Goslin. There have  been 3 great NFL running backs from Salem.  Gene Foster played for the San Diego Chargers in the 60's, Lydell Mitchell played in Baltimore mostly in the 70's and Jonathan Taylor is a recent  NFL addition,(born in 1999) as of 2023,playing for the Colts. William H.  Accoo,  a Tuskegee Airman (first black military pilots) was a lifelong resident of Salem. 
Visit the town's home page to learn more about this city and its fascinating past. This page was updated in September 2023 when one of our firm family members shared some information that we hadn't know about previously.
What We Can Do for You
From defending clients charged with DUI and drug crimes to providing personalized, one-on-one legal representation for family and immigration law matters, we provide a broad range of services from our offices in Salem. If you need advice or representation in any of the following areas, we invite you to contact us for a confidential consultation:
Top Criminal Defense in Salem
Whether you are facing a disorderly person's charge or you are being prosecuted for an indictable crime as a repeat offender, a Salem criminal defense attorney at Helmer, Conley & Kasselman, P.A. can fight to protect your reputation, freedom, and future. We represent individuals charged with all types of crimes in Salem, including:
● Assault and Battery – Simple assault, aggravated assault, and battery all carry potential jail time under New Jersey law. Depending on the severity of your alleged offense, you could be facing up to 10 years in prison and a $150,000 fine. Regardless of what you have at stake, you need our team of experienced Salem assault attorneys on your side.
● Drug Crimes – We represent individuals charged with all types of drug crimes in Salem. This includes everything from marijuana possession all the way up to cultivation, manufacturing, and distribution of cocaine, heroin, methamphetamine, and other drugs.
● Manslaughter – Under New Jersey law, a person can be convicted of manslaughter if that person causes another death recklessly, due to reasonable provocation, or while
attempting to evade the police. In all cases, avoiding prison time requires the
representation of an experienced Salem manslaughter lawyer.
● Murder – If you are convicted of murder in New Jersey, you can face up to 65 years in prison without a chance of parole. But, there are ways to defend against these charges, and our Salem murder lawyers can use their experience to help protect you.
● Police Misconduct – We defend officers accused of using excessive force, coercing confessions, conducting improper searches, and other violations of their duties. If you are facing any of these types of accusations at work, we strongly recommend that you speak with a Salem police misconduct lawyer right away.
● Probation Violations – Probation violations can get you sent to jail, among other consequences. If you have violated the terms of your probation, or if you have been accused of violating the terms of your probation, the Salem probation attorneys at Helmer, Conley & Kasselman, P.A. can help.
● Sexual Assault – Our Salem sexual assault lawyers have significant experience defending individuals accused of rape, statutory rape, and other related offenses. We handle cases involving indecent exposure, child molestation, and phone and computer-related sex crimes as well
In addition to the offenses listed above, a Salem criminal defense attorney at Helmer, Conley & Kasselman, P.A. can represent you if you have been charged with any other type of crime. We also handle cases involving arson, resisting arrest, and weapons offenses, among many others.
Domestic Violence
Domestic violence allegations are serious regardless of the circumstances involved. If you have been accused of verbally or physically assaulting your spouse, partner, former spouse or partner, or another family member, you will need a skilled Salem domestic violence lawyer to help protect you, including assisting with restraining orders.
We have extensive experience handling domestic violence cases in New Jersey. While domestic violence is a serious issue, we know from our experience that many cases involve false or exaggerated accusations. Whether you have been falsely accused or you need to defend against allegations that are true, our lawyers can do what is necessary to help you avoid unnecessary consequences.
In Salem, many different forms of assault, abuse, and other unlawful acts can be prosecuted as domestic violence. Our lawyers defend individuals accused of all types of domestic violence under New Jersey law.
DUI/DWI Defense in Salem
As a Salem DWI law firm, we routinely represent individuals who have been arrested for drunk driving in and around the city. Even though driving while intoxicated (DWI) and driving under the influence (DUI) are classified as traffic violations in New Jersey, convictions can still lead to jail time and other consequences.
In fact, a drunk driving conviction can impact all aspects of your life. From increased insurance costs to loss of your driving privileges, and from difficulty finding a job to getting kicked out of school, a conviction will cost you in many different ways. The good news is that there are also many potential defenses available, and an experienced Salem DUI lawyer at Helmer, Conley &
Kasselman, P.A. can use the facts of your case to protect you as fully as possible.
The initial stages of drunk driving cases move quickly in New Jersey, so if you have been arrested, it is important that you speak with a lawyer right away. You can schedule an appointment with a lawyer at our Salem office seven days a week.
Expungement Lawyers
When you get convicted of a crime in New Jersey, your conviction goes on your permanent record. This means that it is available to employers, landlords, lenders, schools, police officers, and prosecutors. As a result, your conviction can impact your life long after you serve your sentence.
You can put an end to the effects of your conviction by filing for expungement. While not all crimes are eligible, most are. Also, it should be noted that expungements frequently result in individuals being able to purchase firearms (some convictions will bar someone from having a gun and/or prevent them from getting a gun purchase permit). A Salem expungement lawyer at
Helmer, Conley & Kasselman, P.A. can explain whether you are eligible to file, and, if you are, we can help you take the necessary steps to have your record cleared.
We're Also a Salem Family Law Firm
Family-related legal issues require a mindful, practical, and personalized approach. At Helmer, Conley & Kasselman, P.A., we work closely with our family law clients to help them make informed decisions based on their personal best interests and their families' legal needs. We take this same compassionate and custom-tailored approach to all matters we handle, including:
● Adoptions
● Child Custody and Support
● Divorce
● DYFS (DCPP) Matters
● Emancipation of Minors
● Guardianship
● Parenting Time and Visitation
● Paternity
● Prenuptial Agreements
If you need a Salem family lawyer, we encourage you to get in touch. One of our lawyers will be more than happy to sit down with you, explore your options and help you decide how best to move forward.
Much of our firm's family law practice is devoted to representing spouses in a divorce. If you are preparing to end your marriage, our Salem divorce attorneys can help you move forward with confidence. From property division and alimony to child custody and child support, we help our clients carefully navigate all divorce-related issues. We ensure that our clients have a clear understanding of the long-term consequences of their decisions.
Immigration
Immigration-related matters also present many challenges, and the decisions you make while living in the United States can have long-term consequences as well. As a result, if you need help with any of the following, and we strongly encourage you to speak with a Salem immigration lawyer at Helmer, Conley & Kasselman, P.A.:
● Adjustment of Status Applications
● Asylum Applications
● Employment-Based Immigration
● Inadmissibility Waivers
● Lawful Permanent Resident (Green Card) Applications
● Removal Defense (Fighting Deportation)
● Visa Applications
● Visa Extensions
● Other Immigration Matters
While many people try to handle their visa and green card applications on their own, this often proves to be a costly mistake. If your application is unsuccessful, working to overcome the denial can lead to additional costs and delays. By working with an experienced Salem immigration lawyer from the outset of the process, you can avoid unnecessary issues, and you can give yourself a much better chance of obtaining the legal status you desire as quickly as possible.
Salem Traffic Violation Defense
Traffic violations can lead to fines, surcharges, increased insurance premiums, and points on your driver's license. If you have received a ticket in Salem, you should not simply pay the fine and move on. The fine will be just the start of the costs of your ticket, and if you haven't lost your license yet, you will be at greater risk of losing your license in the future. To avoid unnecessary consequences, you need an experienced Salem traffic court lawyer on your side.
Our Salem traffic violation lawyers represent individuals who need to fight all types of tickets in New Jersey. We handle cases involving speeding, careless driving, driving with a suspended license, and failure to appear in traffic court—among other offenses. Before you make any decisions about what to do (or what not to do) in response to your ticket, we strongly recommend that you speak with one of our lawyers to make sure you have a clear understanding of the consequences that are on the table.
107 West Broadway 
Salem, NJ 08079 
Phone: 856-935-2244