Haddon Heights - 519 White Horse Pike
Haddon Heights Family Lawyers and New Jersey Immigration Attorneys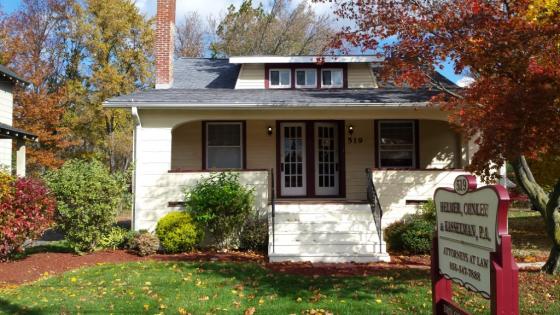 Helmer, Conley and Kasselman, PA is proud of the legal services provided by its Haddon Heights family lawyers and New Jersey immigration attorneys, in addition to those provided by its criminal law, DUI and personal injury attorneys. 
The firm has had a focus in Family Law since it started in 1992.  In addition, the firm has had a dedicated immigration department for many years. Recognizing the diversity of the NJ population, HCK has a number of bilingual and multilingual attorneys and staff to better address the needs of its clients. The firms immigration and family law departments are headquartered at the 519 Haddon Heights address although the attorneys and services are available to clients in any other office as well.
Families have become increasingly complicated in New Jersey, as elsewhere. The legal question of what a family is will make these legal issues even more complicated in the future.  While our attorneys regularly deal with the traditional areas of family law focus, such as divorce, custody, separation, alimony, child support and visitation, they are also experienced in some of the newer areas such as grandparent's rights, emancipation and the issues confronting single sex couples.  Firm clients with Criminal, Dui or Immigration issues also frequently have related family law concerns.  At HCK, we can put together a team of NJ family attorneys, NJ criminal defense lawyers and/or NJ DUI attorneys that can both identify and address the complexities of multiple related issues with knowledge, competence and efficiency. 
Immigration law, unlike many other areas of law, is a federal rather than a state practice. Therefore, clients in the NJ area regularly need attorneys to attend courts in NY, PA and Maryland as well as NJ. Our team of NJ Immigration attorneys does this regularly.  It seems likely that the rules governing immigration, both for individuals and for employers, will change over the next several months and years.  The Dream Act is a recent example. There are likely to be other changes. The attorneys at our NJ immigration law firm concentrate their attention in this area- they are up to date and current on the changes in immigration law, because this is what they love and do. Their focus serves their clients well.
Although New Jersey is not a large state geographically, its traffic patterns and crowded roads can sometimes make driving a hassle. In order to accommodate the needs of HCK clients, the firms 10 offices are all interconnected with video teleconferencing capability.  In addition, this technology allows the use of our interpreters to assist clients in any geographic location as well.  If you have a family law or immigration concern, call us at 856-547-7888. We will promptly make convenient arrangements to see you. Our motto is, Call Us - Problem Solved.  We promise to do our best, always!  And our best is excellent.
519 White Horse Pike
Haddon Heights, New Jersey 08035
Phone: 856-547-7888
Phone: 877-435-6371

Fax:866-652-5002