Awards
New Jersey has strict requirements governing attorney advertising. It considers recognition by many of the bodies named below as advertising. While we are proud of the recognition that many of our attorneys have received, at HCK, we still believe that the best way for a client to select an attorney is through:
Review of the attorney's credentials and experience;
Recommendations from friends and peers; and
An interview.
Nevertheless, we realize that awards are important to some clients. Therefore, we are sharing links to the websites of some of the entities that have recognized our attorneys over time. The links also detail the groups' selection criteria. Please recognize that this list is incomplete and that some of the below forms of advertising are not approved by the Supreme Court of New Jersey.
If you have any questions about a specific HCK attorney, please feel free to call and ask.
Supreme Court of New Jersey Certification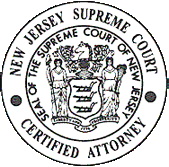 New Jersey Supreme Court Certified Attorney
Yaron (Ron) Helmer – Certified by the Supreme Court of New Jersey as a Criminal Trial Attorney
James Conley - Certified by the Supreme Court of New Jersey as a Criminal Trial Attorney
Robert Luther - Certified by the Supreme Court of New Jersey as a Criminal Trial Attorney
Martindale-Hubbell
Selection Process: Martindale-Hubbell® Peer Review Ratings™
HCK pages: Find Lawyers & Law Firms - Lawyer Locator
Our Attorneys: Helmer, Conley & Kasselman, PA – Firm Profile
Best Lawyers in America: Yaron (Ron) Helmer
Selection Process: The Best Lawyers In America
HCK pages: Search Best Lawyers Database

Yaron Helmer
Scott Elwell
Selection Process: Super Lawyers Selection Process
HCK pages: Find an Attorney
Yaron (Ron) Helmer SuperLawyers Attorney Profile
Scott Elwell SuperLawyers Attorney Profile

Yaron (Ron) Helmer Biography
Selection Process: Researching Ten Leaders
Yaron Helmer: Ten Leader Attorney Profile
A recent New Jersey ethics opinion has indicated that attorneys should not reference their inclusion in newspaper and magazine lists of 'best' attorneys and similar advertising materials. Based on this decision, our firm will not include prior or future the references to these lists on our website or in other materials that we share with clients. We also are aware that some of these entities require payment in order to maintain attorney information on their website or in their publications and we have chosen not to do. If you want to learn about us and our experience, please give us a call and come in to meet us.
Our attorneys are also recognized by their peers and clients as resources and often present to professional and non professional groups. If you would like a presentation for your group on a relevant legal topic, please call us to inquire.
PRINT PAGE